What's important to residents of City Council District 7, and what do we think about key issues? To find out, AustinDistrict7.org went to the North Star neighborhood, a surrogate for several neighborhoods between Braker and Parmer. We block-walked single-family homes in the neighborhood, collecting a dozen quick-hit interviews.
Geographically, North Star (2010 census tract 18.50) sits near the demographic center of the district, east of Mopac, south of Parmer. Its diverse population mirrors much of North Austin: 36% Hispanic, 27% white, 17% black, and 4% Asian. Children are 21% of the population. 47% of households are owners, though in the single-family areas the ratio is higher (on Galway, one of the streets block-walked, the ratio is around 68%). Median household income at $43,262 is 76% of the average for the Austin-San Marcos area. The neighborhood is in precinct 205, which in 2012 voted 68% for Barack Obama.
We asked residents one open-ended question about their needs, plus three "trade-off" questions about transportation, housing, development, and law enforcement.
Duplexes Will Kill Community
Perhaps the single biggest result of the survey was the attitude of single-family residents towards duplexes. Nine out of 10 residents oppose duplexes. There is a deep-rooted concern that duplexes become rental homes, which are poorly maintained and result in a downward spiral. Cody Wehmeyer shared a story about his neighbor's house. "The owner next to us rented his house out. The renters destroyed the inside of the house, so the owner sold it to the bank." He said that as more homes in the neighborhood get rented out, property values are declining, and homeowners are fleeing. The topic is fresh on Wehmeyer's mind, because his family is in the process of selling and moving.
Charles Singleton said affordability is a concern. "Everything's sky-high. You've got to be a millionaire to live in Austin." But he still opposed duplexes because of how they can undermine the community.
Maria Galvan put it succinctly – "I don't like duplexes. People move, don't care."
We Need a Park; Wheelchairs on Parmer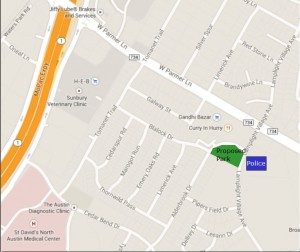 Several residents noted the high percentage of children in the neighborhood, and the lack of child-friendly amenities. "We have plenty of kids in our neighborhood," said Debi Keyes, a long-time resident. "They have to drive down to Walnut Creek park to swim." Other residents shared the same concern. Ronald Lee said his niece, who lives nearby, gets driven every day to a park outside the area. Nicole Ramos said she drives her children to a park every few weeks during the summer. "Right now we have to go to Round Rock for a splash pad. Supposedly there's one at the Domain, but it's small."
Keyes said neighbors had been in discussions with Parks department for the last three years on getting a nearby park. A site is available near the police sub-station, but work hasn't yet started.
Sidewalks and street lights are another concern. Keyes said sidewalks were especially important so people could reach destinations on Parmer. "We have people in wheelchairs trying to reach the HEB."
Highways or Transit – Whatever It Takes
More people thought the City of Austin should prioritize investment in roads and highways over transit and pedestrian infrastructure. That's not surprising given the highly suburban arrangement of North Star's roads and buildings. But at least half of respondents did support transit and pedestrian improvements. Magda Sanchez said she didn't care what the solution was, as long as it worked. "We need infrastructure – highways, or metro – to deal with the traffic. We've got to deal with the growth."
But Byron Neathery said it was already too late. "Smart Growth killed Austin. We put a real estate investor in as mayor – what do you expect? It's good for people who owned land. Great to see Austin grow, except transportation was an after-thought."
"I'd still go Downtown and spend money if a train were available," Neathery said. "I wouldn't use the bus. I'm a snob. I'm a reformed hippy who loves buses but I'm not going to get on one."
How would you invest $10 million to benefit your community?
Park, playground, neighborhood center (3)
Transportation (3)
Sidewalks, street lights (3)
Library (2)
Public safety (2)
Affordable housing (1)
Cultural programs that offer active bilingual learning for entire family (1)
Better programs for homeless (1)
Utility rate reduction (1)
Code enforcement (1)
Nothing (1)
Should Austin invest more in roads and highways, or transit and pedestrian infrastructure?
Roads and Highways (6)
Transit and pedestrian (3)
Both (3)
Should Austin invest more in law enforcement that reduces crime today, or building transit-oriented, walkable places intended to reduce crime in the future?
Law enforcement today (5)
Walkable places with less crime in future (5)
The City of Austin wants more duplexes. Opponents say duplexes are poorly maintained. Supporters say they increase affordable housing. Do you support or oppose duplexes?
Support duplexes (1)
Oppose duplexes (9)