Many issues of interest to District 7 voters are city-wide in nature. Click on the following links to explore them in detail:
Crime – shows a map of crime in Austin, with District 7 in the border zone
Affordability – explores trade-offs, with housing a special concern
Transportation – No improvement planned for North Austin's east-west travel woes; pedestrians still getting killed; what about the highways?
Code Enforcement – in particular, getting accountability for development violations
Pre-Teen After-School Programs – heading off crime, investing in our economy
The following issues (described below) particularly affect North Austin. They are hard-to-solve issues with long-term risks. Attention to these issues has often lagged at City Hall, because we haven't had a representative to focus on them.
Age Segregation – no place for children to live in "vibrant" Austin core
North Austin's Public Space Desert – little space outdoors in cramped N Austin development zones
Walnut Creek Greenbelt – connecting existing neighborhoods to North Burnet Gateway
Restore Rundberg – taking back North Austin's most troubled corridor
Finally, watch recent City Council or board votes that affected North Austin.
Age Segregation
Here's an issue mainly felt in the south of District 7, but that will be coming soon to the north. Children are getting driven out. The natural distribution of children in the US population is 24%. In downtown, it's 3%, and in 78756 about 14%. The result of excluding half the population (children and their parents) is a dramatic shift in culture, most noticeable in the retail and services mix. Downtown Austin suffers an extreme version of this cultural homogeneity. North Burnet Gateway is next.
There are several causes. Affordability is the most obvious, but "affordability" hides half the problem. Small apartments are the most affordable, but exclude families with children. That is the kind of infill housing getting built in Austin's urban core. Over time, the preponderance of such housing (Downtown Austin has 59% efficiency or 1-BR units) can segregate children out completely.
Neither Imagine Austin nor the Land Development Code rewrite now under way has made this a priority issue. District 7 is on the front lines and our new Council member needs to fight hard to redress this issue.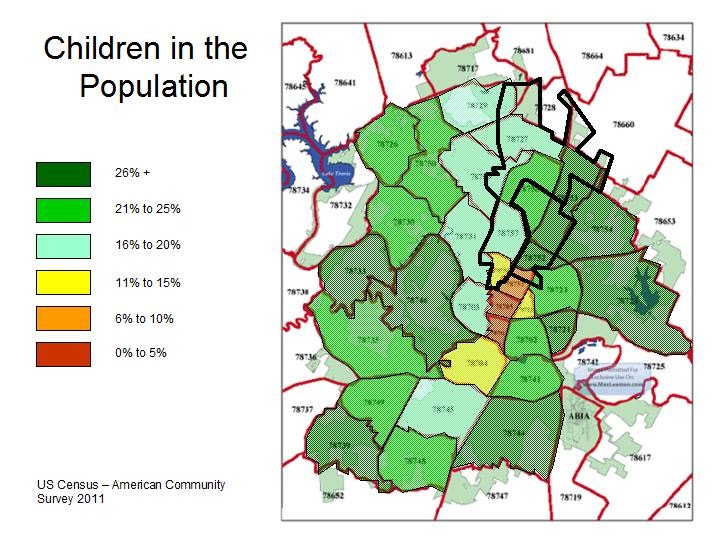 See also:
What Does Age Segregation Mean?
AISD Demographic Analysis and Student Projections, 2012-13
Report and Recommendations of School and Family Work Group – AISD, COA, TravisCo
North Austin's Public Space Desert
North Austin from 45th Street up to Walnut Creek was laid out after WWII at a time when the City of Austin made little provision for park or public space. What space we do have was mostly flood-prone land in the middle of residential neighborhoods, far from commercial areas where "walkable" infill development is getting added today. As a result, the southern part of District 7 not only has less park space than the rest of Austin, but less privately owned public space in areas targeted for pedestrian- and transit-oriented development. High land prices discourage acquiring or providing this land.
Indeed, most of the City's (and county's) recent open space acquisition has been to protect water quality in west Travis County. Parks Department is in a negative feedback loop – refusing to acquire urban park space because they don't have funding to maintain it. The City's new open space ordinance has increased the requirement for publicly accessible space on much new development, but not by enough to achieve walkable conditions. Worse, the ordinance doesn't apply to Austin's "second downtown" – North Burnet Gateway.
Trying to do transit-oriented development while skimping on public space is a grave risk for North Austin.
See also:
Austin Needs a Different Way to Prioritize Urban Park Gaps
Walnut Creek Trail Improvements
One of Austin's most fabulous natural areas, serving one of its densest communities and integrating into our "Second Downtown," deserves higher priority for improvements.
Restore Rundberg
A multi-pronged effort to revitalize the crime-ridden Rundberg corridor in North Austin. Technically this is in District 4. But like many issues, the impacts cross over into District 7.
See also:
Restore Rundberg Approved Implementation Plan and Research Report
Presentation on North Austin Priorities, Including Restore Rundberg, 1/28 Town Hall Meeting
District4Opportunity.org – website covering issues for neighboring District 4