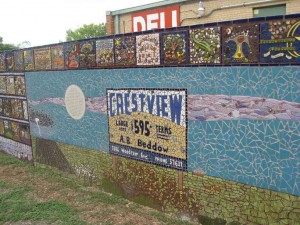 Most people will recognize the Burnet Rd area from Richard Linkletter's movie Dazed and Confused: the pool hall in Brentwood; the drive-in hamburger joint in Crestview; the baseball diamond in Allandale. It's a leafy, early suburban neighborhood nurturing to children, cozy to seniors, and not completely stifling to young adults.
Age balance is a defining trait. It is partly a function of Burnet's geography. Burnet is a couple of miles from any major destinations – UT, The Domain, or Highland Mall. Its location at once buffers it and makes it convenient to most destinations in North Austin. Residents stay for a long time and invest emotionally in their communities and in the area's top-ranked schools. It's common to find your neighbor on faculty or staff at UT. Software people and architects are a dime a dozen. Traditionally Burnet Rd has been Austin's most middle class area at 95-105% of the region's median income. But with suppressed housing supply and ever more people coming to Austin, many long-time residents are being priced out.
New housing is being added. So far it is mostly housing that excludes families. Developers call their target demographic Downtown wannabies – people who really want to live Downtown, but can't afford it. Brett Denton, developer of the 5350 AMLI property, said that the project's view of the downtown skyline is a key asset. Developers see family-friendly housing as too risky, yet discount the risk that housing targeted at young professionals on Burnet will soon be competing with a glut of similar housing throughout the urban core, in places that are intrinsically more 'chic' than Burnet.
Making the new development truly walkable will also be a challenge. Austin's early suburbs have markedly less public space than elsewhere, and almost none near development zones. Land prices are high, and continue to climb. The City has no real strategy to address public space. It's astonishing that City officials are resisting the grassroots efforts of Crestview and Highland residents to get pocket parks on land that's still available.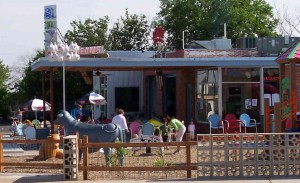 Essentially, there are three competing visions for land use on the Burnet corridor, described below with some plausible pros and cons. During the campaign we'll be offering these visions for debate, and testing which of them people support.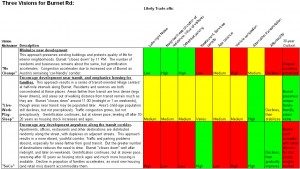 See also:
Council Green Lights Burnet, Anderson Corridor Plans. Now What?
Austin Chronicle: Burnet Rd's Child-Friendly Vision
Austin Chronicle: Crestview at the Crossroads
Community Impact: Crestview Neighborhood Pushes for Park