Dear District 7 voter,
To raise awareness of our volunteer news service, we will be placing yard signs around the district that say 'I Vote in District 7 – AustinDistrict7.org'.
It's a relatively cheap and democratic way to raise awareness of the election and of the information available on our site. But even a cheap method isn't free. Yard signs run about $3 at cost. Also, to remain balanced we can only take pledges from voters, not from candidates or groups from outside the district.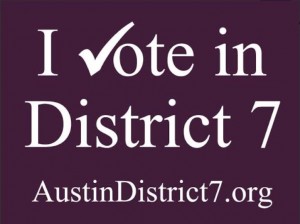 If you would consider sponsoring signs, please email editor@austindistrict7.org to let me know so we can gauge the size of our order. Especially effective would be pledging to sponsor more signs, and then reselling at cost to neighbors. AustinDistrict7.org is not a non-profit, but we are not looking to make a profit – just to defray volunteer costs.
Thank you for considering this request!