Editor's note. AustinDistrict7.org's editorial board, consisting of neighborhood leaders from throughout the new District 7, met at the start of October to discuss a candidate endorsement, but decided not to endorse. Instead, the site has offered each candidate the opportunity to submit an endorsement by local supporters. Here is one from Allandale residents Giselle and Chad Williams, explaining why they support Leslie Pool for the District 7 City Council position.
By Giselle and Chad Williams, District 7 neighbors
Leslie has the experience and values we need on City Council. She has over three decades of civic activism and professional experience serving the public's interest. Leslie has spent hundreds of volunteer hours serving Austin. She chaired the Town Lake Advisory Group to protect what is now Lady Bird Lake, and served on Austin's Water/Wastewater, Arts, and Telecommunications Commissions.
Along the way Leslie also raised a family. Her daughter, Emily, went to AISD schools and graduated from Anderson High in 2006. Leslie understands the challenges that families and all of us face.  That is why she has been a champion for property tax reform. Too much of the property tax burden has been placed on Austin families, and Leslie will fight to make corporations pay their fair share of taxes.
Leslie was a leader in getting legislation passed that requires the state to work with neighborhoods whenever state-owned land is leased or sold for private development. This legislation was passed through the efforts of the Bull Creek Road Coalition, an affiliation of seven neighborhoods, which Leslie helped found and convene in 2012.
Leslie will fight for all North Austin neighborhoods.  City Council has been more concerned with big developer deals and corporate giveaways than serving the residents of North Austin.  The council provided $3.8 million in fee waivers for a luxury downtown hotel and nearly $700,000 in incentives for a private corporation. Yet neighbors in North Austin had to raise funds by themselves to provide seating areas at Walnut Creek Pool. Leslie will fight to change this history of short-changing residents and make sure North Austin gets the funding and attention it deserves.
This is why Leslie Pool has been endorsed by the Austin Chronicle, the Austin Sierra Club, Clean Water Action, and many other endorsing organizations. Here's a round-up of what community leaders have to say about Leslie:
"Leslie Pool was a leader in getting state legislation passed that requires the state to work with neighborhoods when leasing state land for commercial development. She will continue to be a strong champion for neighborhoods on city council." – Hon. Laura Morrison
"Leslie Pool understands that affordability is not just a buzzword that politicians can use freely without any real intent to do anything about it. Vote for Leslie Pool if you want to bring real, meaningful affordability policies to City Hall." – Bill Oakey, AustinAffordability.com
"Leslie Pool has advocated for women's rights for decades. She also
understands what it is like to raise a family in Austin. And she did this while not only working full time but while serving on numerous city boards and commissions. We need someone with Leslie's dedication and understanding on City Council." – Linda Young, President, National Women's Political Caucus
"Leslie Pool will be a leader on city council for property tax reform. Her experience and her leadership make her the most qualified person in the race." – Hon. Brigid Shea
"Leslie has been a strong leader on the environment for decades. We need her commitment and vision on the council to protect Austin's quality of life." – Roy Waley, Conservation Chair, Austin Sierra Club
"Leslie Pool was there at the beginning of our struggle, on the ground fighting to save Barton Springs." – Mary Arnold, Former Vice Chair, Save Our Springs Coalition
"Leslie worked extraordinarily well with both Republicans and Democrats in the Texas Legislature to successfully bring a voice to neighbors in state land projects. I am impressed with Leslie's ability to listen well, and then build toward consensus. She has just the coalition-building talents needed to be a powerful influence on the new City Council and serve District 7 very well." – Sara Speights, Chair, Legislative Committee, Bull Creek Road Coalition
"My mom is awesome. She was there for me day in and day out. She was also always fighting for some cause or trying to help someone. My mom taught me the importance of civic engagement." – Emily Pool
Go here for more: LesliePoolforAustin.com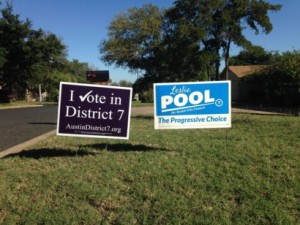 Neighbors on Havelock Dr showing support in District 7