by Steven Zettner, editor
Perhaps more than any other issue, most of District 7's neighborhoods share North Burnet Gateway as a common opportunity and risk. As goes Austin's second downtown, so too shall go the adjacent neighborhoods.
During the campaign I'll be coming back to North Burnet Gateway several times. But I wanted to start with visuals – a quick photo tour of The Domain along with some observations.
THE GOOD
Oddly, the most enchanting place during my walk of The Domain was this sidewalk next to an apartment complex. The quirky hand rails, attractive landscape and nice stone work gave it an uplifting feel. (Click photo to expand).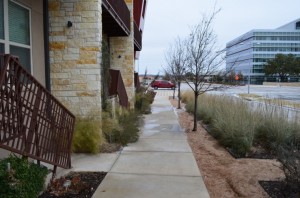 Not far from the same spot, I found these streetscape features inviting.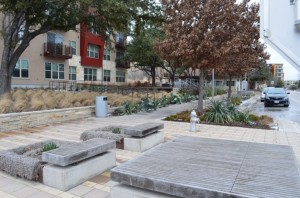 These ground-floor patios are, if they get used, a great way to put people outdoors where they can interact and meet their neighbors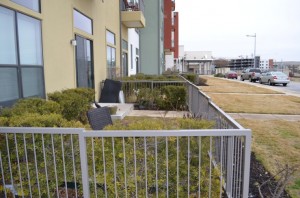 This is one of The Domain's main gathering places. It's rich in features – an attractive place except for all the heavy-handed muzak and advertising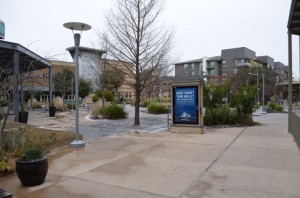 The Domain's sidewalks are far and away its best feature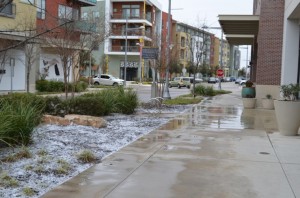 A fun play feature for kids. Unfortunately, it was the only one I encountered on my hour-long tour. Another parent I talked to said The Domain has many kid-friendly features and draws parents from adjacent neighborhoods, so watch for more on this theme.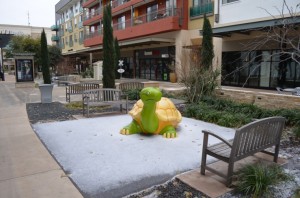 This is The Domain's main park. Park space is a big concern – North Burnet Gateway could end up with half the public space of Downtown Austin. The Domain got public subsidies, but other developments in NBG probably won't.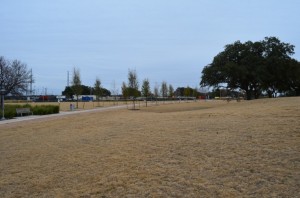 THE BAD
This finger of open space juts out from an apartment complex. The benches are intended to provide a respite on a path leading to the shopping district. But there's not enough pedestrian space to make it work; the tables are too exposed to wind and traffic for most people to use them.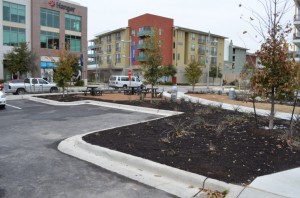 Here's a useful feature – a mini dog-park behind an apartment complex. So why put it in the 'Bad' category? It shows up a major weakness of The Domain – no housing suitable for families. North Burnet Gateway residents will be permanently segregated by age.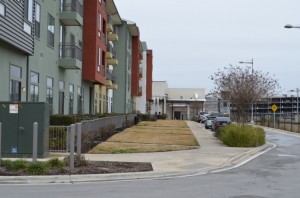 A ubiquitous dog poop station.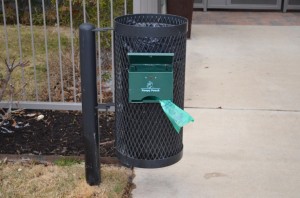 Hmm – another dog poop station.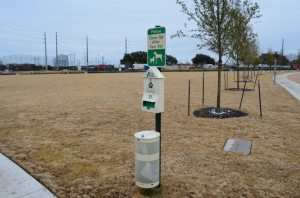 Here's the housing at The Domain. Live-Work-Play – if you're an adult. (Or a dog. Can you spy the poop station?)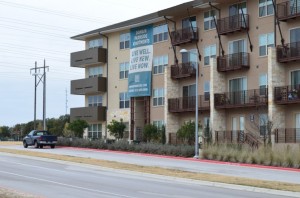 THE UGLY
Confused why this is Ugly? It's the little green doo-whichee – an outdoor muzak speaker. They're everywhere! Adds Orwellian charm to your upscale shopping spree.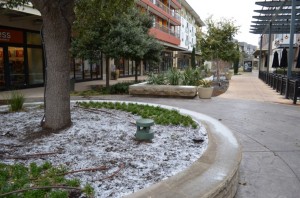 The Domain feels like a Madonna MTV video. It's probably not a big deal for occasional visits, but I'd be concerned about raising my kids in a place with wall-sized murals to buy fancy clothes and watches.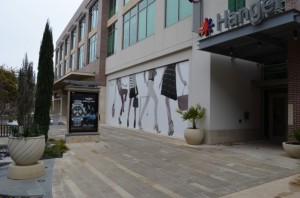 This streetscape along Braker looks eerily like what the City of Austin wants to put on other corridors – a 15′ tree and sidewalk zone. It's functional – for adults. But few people use this because Braker is too scary.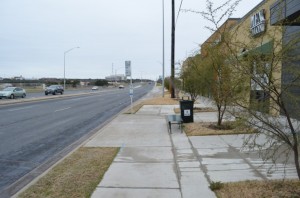 This detention pond is where the North Burnet Gateway master plan shows conceptual open space. As implemented, it's a walled off abomination.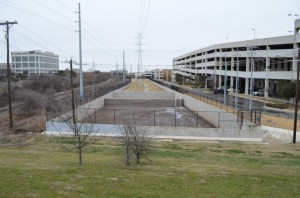 This commercial center along Braker meets all the North Burnet Gateway zoning requirements, including 2% open space. In case you didn't get it, this is the site's 2% open space.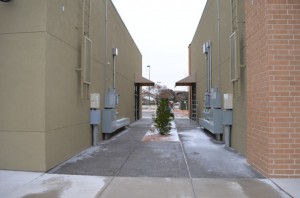 We're back at The Domain's main park, this time looking west – at the transmission towers and Austin Energy sub station. (In fairness, one hopes that at some point the sub station will be screened off by shrubbery).