by David Dixon
The typical Austin household pays about $1,260 a year on their electric bill.  Single-family residents typically pay even more.  That's a significant chunk of the cost of living in Austin.  A common question from rate payers is about renewable energy – will adding wind or solar sources increase my bill?
Maybe even two years ago, the answer might have been – yes.  But the market is changing so quickly.  We have entered an era where renewables are, certainly from a taxpayer perspective, the least expensive form of energy. I hope that our future City Council will understand why this is the case, and encourage Austin Energy to expand its renewable energy goals.
Austin Energy, our city-owned electric utility, historically has been conscientious in keeping rates competitive.  They aim to keep their rates in the lower 50th percentile of Texas retail rates. In fact, until a rate hike in October 2012, it had been 18 years since the utility raised rates.
That doesn't mean customers aren't affected by higher or lower fuel costs – part of our utility bill is the power supply adjustment that reflects the cost of "fuel".  What makes 'fuel-to-fuel' comparisons slippery is that it does not factor in the capital costs or ongoing operations and maintenance costs for a particular generation source. For example, coal may look inexpensive when just considering the current fuel costs, but the overall cost picture changes when including the huge capitol expenditures required for utility owned fossil fuel generation. For example, Austin Energy spent $220 million for environmental controls a few years ago on the Fayette coal plant in order to meet air quality regulations. This capitol expense is not captured in the fuel costs. Additionally all the external costs of burning fossil fuels: health, air quality, water usage, climate change are not captured at all.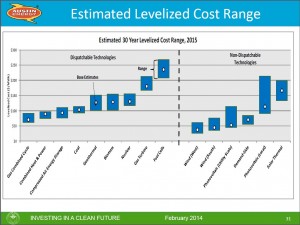 On the other hand, Austin Energy buys long term large scale wind and solar contracts at a fixed price. This cost is completely captured in the power supply adjustment and that price includes all capitol costs, fuel (free!), and operations and maintenance costs for the wind and solar farms. The latest, all inclusive wind contracts that Austin Energy signed this past February will actually lower the power supply adjustment for all Austin Energy rate payers.
Locally generated solar power is very attractive for different reasons.  It is unique in our generation portfolio because the power is generated right where it's consumed, which eliminates line losses and requires no new transmission or distribution infrastructure. It requires capitol cost but these costs are only partially borne by the utility. The majority of the cost is paid for by rate payers. Solar installation costs in Austin are among the lowest in the country and solar companies have created hundreds of local jobs.
Wind and solar generation accrue multiple benefits to Austin Energy, its rate payers and the city itself. Our council members oversee our utility and it is important that they educate themselves on these benefits and understand how the costs of these energy sources have dropped rapidly in the past few years. Adding additional renewable energy to our generation mix should be a priority for our utility, our council, and our city.