by Kat Correa, Crestview Park Committee
The Crestview neighborhood has been working for years to get a neighborhood park established. Crestview has no public parkland and shares park space with neighboring Brentwood and the elementary school. But Crestview is just one central urban neighborhood suffering lack of public green space, and to date the city leaders have ignored the problem.
Austin claims to be a "City Within a Park," yet our parks system goes underfunded and understaffed. The National Recreation and Parks Association recommends one maintenance person per 15 acres of parkland. Austin has just one person per 175 acres. It is the reason our parks maintenance staff does little more than "mow and blow." Aside from our substandard park maintenance, Austin ranks 45th out of 75 major cities for park funding. To put this into perspective, 90% of Denver, Colorado residents live within six blocks of a park. In Boston, 97% of children live with a quarter mile of a park.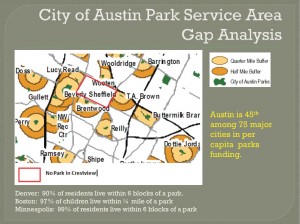 Simply put, the city is growing but our parkland is not. Central Austin, where much of the development, density and infill is happening, is where parks and green space are needed most.
Three central Austin neighborhoods are so desperate for parkland that neighbors are rolling up their sleeves and working to claim small patches of land as green space.
Like Crestview, the Highland neighborhood east of Lamar does not have a park. Neighbors have claimed a small triangular traffic island and created Meadowview Park. It is 0.18 acres. They applied for and received grants, planted trees, installed benches and landscaping, and maintain it with volunteer workdays. It is the only park until you travel east of IH-35.
Hyde Park neighbors also claimed a traffic island to create Brunning Green. This green space is located on 51street. It is 0.20 acres and serves as the only park for that large and busy neighborhood.
Cherrywood Green on 34th street was transformed from an empty lot next to a creek into a tiny park. It is also just 0.20 acres and is the only open green space in that densely developed neighborhood.
Isn't it clear that central Austin is desperate for public parks and green space? Neighbors are not asking for another Zilker Park in north Austin, but we are fighting for the few remaining scraps of land.
Thousands of people are moving to Austin in the coming years. They're coming for a great economy, a steady job market, interesting culture and entertainment, quality education, and a diverse population. Parks and outdoor recreation are an integral part of our quality of life. Neighborhoods in central Austin must support each other, as well as advocate for and support the Parks and Recreation Department, the Austin Parks Foundation, the Austin Heritage Tree Foundation, Tree Folks, the Urban Forestry Board and any other groups working to build and sustain parks and green space.
The Crestview Park Committee is working to establish 5.6 acre neighborhood park located at 6909 Ryan Drive for the benefit of both Crestview and the Justin Lane /Lamar Boulevard Transit Oriented Development residents. www.crestviewna.org
See also:
The Domain in Photos – The Good, the Bad, the Ugly – documents lack of public space in North Austin's future downtown, but also shows positive examples
Austin Needs A Different Way to Prioritize Park Space Gaps – problems with how Austin currently acquires urban park space